By Darrin Robertson, VTT Editor - Updated: January 17, 2023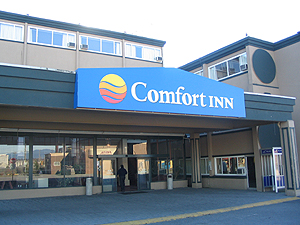 The Comfort Inn has 128 Guestrooms that are air conditioned, smoke free and nicely decorated. This hotel is close to YVR making this a great place to stay.
Business travelers have the option of using the hotel's 2 meeting rooms that can accommodate 40 to 100 people.
Whether you stay for business or pleasure, you'll stay connected with high speed internet available throughout the hotel.
Information and Directions to the Comfort Inn Vancouver Airport
This Hotel is very close to YVR, located just 5 minutes away making it a convenient location for travelers coming from Vancouver airport.

You won't need a taxi or rental car because this hotel offers free shuttle service to and from the airport. For those who want to see the sights in downtown Vancouver, the Skytrain Station is close-by and it's just a 25 minute ride to downtown.

The Comfort Inn is located on No. 3 Road close to shopping malls and great restaurants including Chinese and Japanese cuisine.

The River Rock Casino is only a 5 minute walk from the hotel.

There is also a pool to relax in at the end of a busy day.
Directions to The Comfort Inn
Directions from YVR to the Comfort Inn Vancouver Airport

Drive southwest on Grant McConachie way

Turn right onto ramp to BC-99

Slight right at Grauer Road

Continue onto Sea Island Way

Turn left at No.3 road

Make a U-turn at bridgeport Rd
look for signs that say No.3 Road South,
this is a legal U-turn arrive at 3031 No. 3 Road

Guests Rooms - The hotel offers family suites with Bedroom/Living Room combinations that have 2 Queen Size beds and a Queen pull out sofa.

Your other choices for rooms are: 2 Queen Size beds, 1 King size bed, 2 Double beds or 1 Queen Size bed.
Comfort Inn YVR - Reviews
The reviews of the Comfort Inn are very positive and this is what many guests had to say:
Close to the airport and clean rooms.
The hotel is in a fantastic LOCATION only five minutes from airport.
We loved the shuttle service and the little restaurant for breakfast and dinner.

Perfectly acceptable for a cheap hotel near the airport and the airport shuttle service is a bonus.
Pictures of the Comfort Inn YVR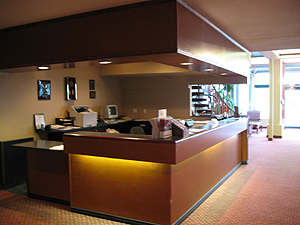 Front lobby of the Comfort Inn.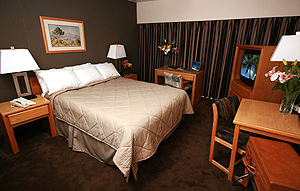 Guest room at the Comfort Inn.
Tell us about the Comfort Inn.
Do you have a review on the Comfort Inn? Share it!
Privacy Policy & Disclaimer / Contact Us