By Darrin Robertson, VTT Editor - Updated: January 17, 2023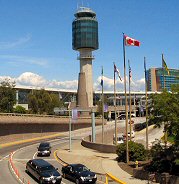 Vancouver Control Tower at the Airport!
Here's some helpful advice and tips on arrivals and getting around YVR Airport.
You'll like Vancouver International Airport - it's well organized, clean, easy to get around and full of shops, restaurants and services. It's even won numerous awards as the best medium-size airport in North America.
Of course, keeping Vancouver International Airport up-to-date has meant construction, so you can occasionally expect delays and detours, especially around the arrivals level near the new YVR Skytrain station.    If you see the term "YVR", that is the 3-letter airline code for Vancouver International airport.
Location of Vancouver Airport
The location of Vancouver International Airport is 13km (8 miles) south of downtown Vancouver.
It's located in the suburb of Richmond, BC. It is connected by major roads and highways to downtown Vancouver, Whistler, Seattle and the ferry to Victoria, BC (on Vancouver Island).
Vancouver Airport - Arrivals and Departures Information
For complete and up-dated info on domestic, USA and International YVR arrival flight times, see YVR Airport Flight Arrivals for departures see YVR Airport Flight Departures

Parking at Vancouver Airport
Find out about the 5 choices that are available for parking and prices at YVR Airport, Hourly, Economy, Long term, Valet and Park and Fly. Where can I pickup passangers at arrivals? Where do I drop passengers off at the airport and how do I parking at the South Terminal. Where do I get parking coupons?

When Arriving at YVR:
Here's some things you should know about arriving at YVR Airport:
Terminals: There are 2 main terminals at YVR: Domestic and International.
The Domestic Terminal is for flights to/from Canada, and has 3 levels. The International Terminal is for flights to/from the USA and overseas, and has 2 levels.
There is a 3rd terminal for smaller regional airlines and helicopters called the South Terminal. Transfers to the South Terminal are by shuttle van from outside of level 2 of both terminals.
Baggage Storage: There are baggage storage facilities in Vancouver International Airport. Both are on arrivals level 2: one is in the domestic terminal, just past baggage claim on the extreme left-hand side. The other is in the International Terminal, past immigration and in the arrivals hall on the other side of Burger King & Starbucks.
First-Class Departure Lounges at YVR: Air Canada has 3 Maple Leaf lounges at YVR: 1 in the domestic terminal, 1 for US departures, and 1 in the international departure area. There are also 2 Plaza Premium Departures Lounges (open to all airline customers) located in the domestic and international terminals.
YVR Arrivals Lounge: There is a Plaza Premium Arrivals Lounge at YVR Airport, and it's located on arrivals level 2 of the International Terminal.

Restaurants at YVR
Vancouver International Airport has over 40 restaurants, cafes and fast-food outlets. Where should you eat? Find out here in our Guide to the Best Restaurants at YVR Airport.

Disclaimer - Please Note: This page is a general guide only - It is NOT the official YVR Airport website. This information is subject to frequent change. Vancouver Travel Tips.com accepts no responsibility for any loss, injury or inconvenience sustained by anyone resulting from this information. Please consult yvr.ca before starting any travel.


Privacy Policy & Disclaimer / Contact Us