By Darrin Robertson, VTT Editor - Updated: January 17, 2023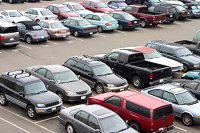 If you're travel plans include driving to YVR, parking is something you'll need to know about before you arrive.
Here's the latest on parking at YVR Airport. All prices are in Canadian dollars, and please remember that regulations, parking lots and prices can change constantly.
You'll also find info on where you can park to pick up and drop off passengers at YVR arrivals & departures levels, as well as parking at the South Terminal.
Parking at Vancouver Airport – 5 Choices:
(Please Note: Rates are subject to frequent change - please verify prices with all companies before making any reservations)
1. Parking at Vancouver Airport in the Hourly / Daily Parkade – This is the closest parking lot near the Vancouver, BC Airport. As you might expect, the cost is a bit more too: $4.25 Express Pay / $4.75 Cashier for every half-hour, $8.50 Express Pay / $9.50 Cashier for every hour.  $32.00 Express Pay/ $34.00 Cashier per day, Express Pay $190.00 per week on Parking Level 2. Express Pay $190.00 per week on Parking Level 3. This lot is covered (except for the top level 3), and it's an easy short walk to all terminals.  
2. Economy Parking Lot at Vancouver International Airport – price is $4.00 Express Pay / $4.50 Cashier per half-hour, $8.50 Express Pay / $9.50 Cashier for every hour. $20.00 Express Pay / $22.00 Cashier per day or $130.00 Express Pay a week. When you use a discount coupon (see the link below),it's $16.50 Express Pay /day, $105.00 Express Pay a week. This is an open air lot, and is within walking distance of YVR's domestic and international terminals.
3. Vancouver Airport Long Term Parking – for cheap long term parking at YVR, this is the best option. It's an open air lot with a free 24 hour shuttle (wheelchair accessible) to both the domestic and international terminal buildings. The lot is located east of the International terminal building (too far to walk) and is security patrolled. Rates for 2020 are: $4.00 Main Lot /$3.50 Overflow Lot per hour, $17.00 Main Lot /$17.00 Overflow Lot daily rate. The weekly rate for this lot is $110.00. They offer a special rate of $15.00/day (a coupon is required for these prices, see the link below). If you're an aeroplan member, you can earn aeroplan points with the coupon too.
4. Park and Fly Vancouver Airport – another option for shuttle parking near Vancouver International Airport is Park n' Fly. They operate a lot about 1.5 km's from the terminals (easy to get to from both Russ Baker Way and Grant Mcconachie Way), and offer a free 24 hour shuttle to YVR.
Added benefits of the Park and Fly YVR:
You can check in for flights on Air Canada and Air Canada Jazz by using the automated self-serve kiosk on-site.
If you'd like, they can arrange various services for your vehicle (oil change, wash & vacuum, etc) while you're away.
5. Valet Parking at YVR - operated by Gateway Valet & Concierge. The charge is $31.50 hourly, $43.70 daily, with the weekly rate at $236.50. They have locations outside on the arrivals and departures level of both domestic and international terminals.
Parking Coupons for Vancouver Airport
At Yvr.ca Guide to Parking, you'll find a link for discount parking coupons at YVR. Currently they offer the coupons for:
Economy Parking, Long-Term Parking, Valet Parking
To access the coupons, click on the blue tabs to view info on the parking fees and how to download the discount parking coupons.
YVR Parking for Picking up Passengers at Arrivals
Unfortunately, Vancouver Airport does not have a cell phone lot. We hope YVR will build one soon. It would definitely make parking at Vancouver Airport easier for picking up arriving passengers.

New Cell Phone Waiting Area
As of 2014 parking at Vancouver Airport is easier with the new Cell Phone Waiting Area for drivers to park while they wait for their guest to arrive.  You can now park for 30 minutes in the new area for free, just follow the signs to the new YVR Cell Phone Waiting area and wait for a call or text telling you that they have arrived. You can then drive up to the Arrivals curb and pick up your guests.   If you park for more than 30 minutes you will be charged the standard parking rates.

There is currently limited parking places available to park on a temporary basis when picking up passengers at the Arrivals level (level 2). They are located at:
On the left as you approach the International Arrivals area, level 2.
Just past the taxi stand at the domestic arrivals area on level 2.
These spots are for immediate loading and unloading only, and the driver must not leave the vehicle at any time for security reasons. Parking officials are nearby at all times enforcing the rules.
Where to Drop Off Passengers at Vancouver Airport
To drop off departing passengers at YVR, simply drive up to departures level (3) where there's room in front of the Domestic and International Terminal buildings for immediate drop offs. The Domestic Terminal is the most crowded of them all, and can get get very busy between 7 AM and 12 noon.
Parking at Vancouver Airport South Terminal
You can park right beside the South Terminal at YVR, and the cost is quite reasonable:
1 Hr: $3.50 Main Lot /$3.00 Overflow Lot 
1 Day: $10.50 Main Lot /$8.50 Overflow Lot 
You pay at the automated machines nearby (remember your parking stall number first), and the terminal is within easy walking distance.
Airport Shuttle: South Terminal - YVR - FYI, there is a shuttle that operates between the South Terminal and the main terminals at YVR at certain times and days of the week - check for times and frequency inside the South Terminal building.
More Questions About YVR Parking?
For more info on parking at Vancouver Airport please see the parking section of the YVR website.

Disclaimer: This page is a general guide only - it is NOT the official Vancouver Airport website. Parking areas, rates and procedures at Vancouver Airport are subject to frequent change. Vancouver Travel Tips.com accepts no responsibility for any loss, injury or inconvenience sustained by anyone resulting from this information. Please consult www.yvr.ca for updated information.
Privacy Policy & Disclaimer / Contact Us