BC Gulf Islands – Vacation Rentals & Accommodation, BC Ferry Travel, Maps & Photos
BC Gulf Islands - Saltspring, Pender, Mayne Galiano Rentals, Vacation Homes, B&B's plus Maps, Photos and more.
---
VTT Home › Gulf Islands of BC
By Darrin Robertson, VTT Editor - Updated: January 17, 2023
The Accent Inn is well suited for people who are traveling for both business and vacation. It is located a few minutes away from the Vancouver airport in Richmond, BC and is easy driving distance to downtown Vancouver.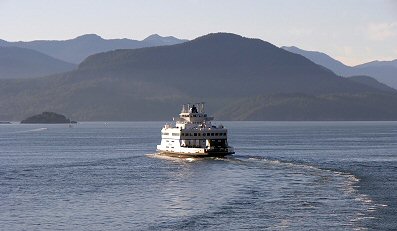 Ferry leaving for the Gulf Islands!
Relaxing, sailing, hiking, kayaking - the Gulf Islands make a great summer daytrip from Vancouver or Vancouver Island.

Mayne, Galiano, Saltspring North & South Pender Islands are the islands between the Lower mainland and Vancouver island that form most of the Southern Gulf Islands.
Denman Island, Hornby and Texada Island are further up the coast and are know as the Northern Gulf Islands.
In this section on the Canadian Gulf Islands, you'll find:
Gulf Islands vacation rentals
B&B's on Galiano, Saltspring, Mayne Island
How to sail a BC Ferry to each Gulf Island
Maps and Photos of the islands, plus weather information
Many who visit these special spots on the West Coast become more than just repeat visitors – they begin looking for Gulf Islands BC real estate! So we also show you where you can find Gulf Islands oceanfront property and homes for sale.
Travel to the Gulf Islands:
Saltspring - a guide to Saltspring accommodations and rentals, recreation and things to do in Ganges Village and around the Island.
Galiano Island - an easy daytrip from Vancouver, check out our listings of places to go, plus Galiano inns, B&B's and vacation rentals.
Map of the Southern BC Gulf Islands
View Larger Map
Privacy Policy & Disclaimer / Contact Us