By Darrin Robertson, VTT Editor - Updated: January 17, 2023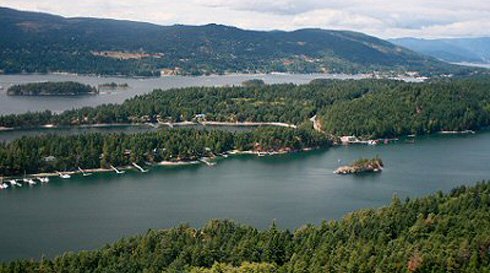 Saltspring Island in the Summer!
Saltspring Island is the BC Gulf Island with the most population and choices of accommodation, shops and restaurants. For a variety of great dining spots, local markets, along with unbeatable relaxation, it's hard to beat Saltspring.
The year-round population of Saltspring is now over 10,000, making it the busiest of the West Coast Gulf Islands.
Recreation on Saltspring Island
Some things to do on Saltspring include:
Explore Ganges, BC - lovely Gulf Island town with pretty harbor setting, good shops, cafes and arts & crafts galleries. The Saturday Market (April – October) is great for local art, organic produce and more.
Saltspring Beaches – great for swimming and beachcombing.
Hike up Mt. Maxwell - one of the best scenic views of the Gulf Islands can be enjoyed from the top. 
Saltspring Island Restaurants
The excellent Hastings House Restaurant (250-537-2362) is rated as one of the best places to eat on Saltspring Island. It's also a great spot to try out a dish of world-famous Saltspring Island lamb.
The Oystercatcher Seafood Bar & Grill (250 537-5041) offers a choice location on Ganges Harbor, and a waterfront patio to enjoy west coast seafood and pasta plates.
Saltspring Island Accommodations
Saltspring Island Rentals - The Suncrest Cottage and B&B is a deluxe cottage rental near the oceanfront on Saltspring Island. Relax in the peace and quiet with mountain and ocean views, balcony and fireplace.
Saltspring Campgrounds – camping is easy at Ruckle Provincial Park However they don't take reservations as it's first come first served (call 250-539-2115 for more info). There are several other places to camp including:
Lakeside Gardens Resort Phone: (250) 537-5773
Cedar Beach Cabin, Camp & RV Resort (250) 537- 2205
Saltspring Hostel – unfortunately, the Island's only hostel is closed. Check back here for updates on any new hostel accommodation opening.
Saltspring Island Properties for Sale – you may love Saltspring so much you'll want to stay! If so, see these listings of Saltspring Island homes for sale.
Saltspring Island Weather 
The West Coast of Canada has the most moderate temperatures in the country, and Saltspring Island's climate is perhaps the mildest on the West Coast!
Rainfall Statistics - Saltspring gets about 36 inches of rain per year, mostly in the winter months between November and April. It can snow on occasion, with wet snowfall most likely from November to January.
Temperature - the average temperature in the summer in Saltspring is about 22 (high), with an overnight low of about 11. Winter temps range from highs of 5 or 6 to a low of around 0 degrees C.
Map of Saltspring Island
View Larger Map
Photos of Saltspring Island
These pictures give you a bit more of an idea of Saltspring Island, particularly the shore and coastline. Enjoy...
Saltspring Island BC Coastline!
Saltspring Island BC Camping on the Shore!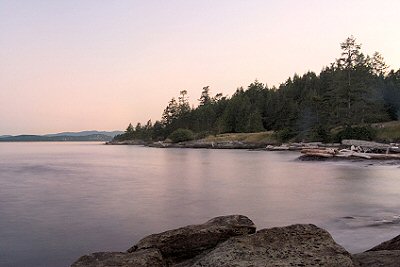 Shoreline of Saltspring Island BC!
Privacy Policy & Disclaimer / Contact Us