A Guide to Hotels Near Vancouver Airport
Information on Hotels Near Vancouver Airport – Location, Price, Shuttle/Park and Fly Details, and more.
---
VTT Home › Hotels close to Vancouver Airport
By Darrin Robertson, VTT Editor - Updated: January 17, 2023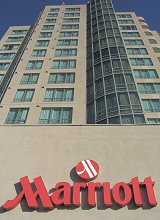 Marriott Hotel close to YVR Airport!
If you need accommodation near Vancouver International Airport, here's our directory of YVR hotels.
This section of Vancouver Travel Tips is just starting, but keep checking back as we will have descriptions, pictures, and reviews of over 25 Vancouver Airport Hotels in a wide variety of price ranges.
There is only one hotel at Vancouver Airport, the luxury Fairmont Vancouver Airport. So we'll show you lots of places to stay close to YVR in Vancouver as well as nearby airport hotels in Richmond, BC including the Marriott, Travelodge, and Hilton Vancouver airport hotel.
On these pages you'll find:
Description of the hotel or motel, how new it is, best suited for business, families, etc.
Getting to it - how far the hotel is from Vancouver International Airport, how easy it is to drive to, airport shuttle/Park and Fly details.
Location - the type of neighborhood that it's in, what it's close to, driving/public transit/walking distances to restaurants, shopping, malls etc.
Cheapest rates and discounts on Vancouver International Airport Hotels, and the websites that have them.
Hotels at Vancouver International Airport:
1. Fairmont Hotel Vancouver Airport
Hotels Near Vancouver Airport:
In approximate order from closest to the airport:





























Tell us about your favorite Hotel near the Vancouver Airport
Do you have a favorite Hotel near the Vancouver Airport? Share it!
Our Readers favorite hotels near the Vancouver Airport.
Click below to see contributions from other visitors to this page...

Privacy Policy & Disclaimer / Contact Us