Fairmont Hotel Vancouver Airport - Reviews, Discount Rates, Pictures
The Fairmont Hotel Vancouver Airport - Review, Pictures, Cheap Rates.

---
VTT Home › Hotels Near Vancouver Airport › Fairmont Vancouver Airport
By Darrin Robertson, VTT Editor - Updated: January 17, 2023
The Fairmont Vancouver Airport is a luxury hotel that caters to both in-transit flyers and visitors to Vancouver.

With it's impressive rooms, fine dining and top rate fitness and business facilities, the Fairmont YVR is certainly one of the best airport hotels in Canada.
YVR Fairmont Hotel!
Location of the Fairmont:
The Fairmont Vancouver Airport Hotel is located in the airport! It's actual location is just above the USA check-in counters. It's also just a few minutes walk from the domestic and international check-in.
Distance from Fairmont Vancouver Airport Hotel to:

Domestic check-in/arrivals: 5 minute walk. International check-in/arrivals: 3 minute walk. Downtown Vancouver: 8 miles (13 km).
Cheapest Rates at the Fairmont Airport Hotel
It's worth noting that the fairmont also offers half-day rates for travellers in-transit looking for a day room at Vancouver airport.
Fairmont Vancouver Airport Rooms:

Rooms are luxuriously outfitted with soundproof windows, soaker tubs, mini-bar and air conditioning. There's even a dedicated floor for hypoallergenic guestrooms.
Rooms facing north at the Fairmont YVR enjoy views of the North Vancouver mountains, while south facing windows generally get a liitle more sun and look out onto the south runway at YVR.
Hotel amenities include a spa, health club and lap pool. Fine dining is offered at the Globe@YVR restaurant, or, you can enjoy a cocktail and watch the aircraft land at the Jetside Bar.
Shopping & Restaurants:
Inside Vancouver International Airport, there is a small food court in the terminal about a minutes walk away that has Starbucks, burgers, pizza, Chinese and Greek food. And you'll find a pretty good Japanese restaurant just around the corner.
Reviews of the Fairmont Hotel Vancouver Airport, Vancouver BC
The Fairmont at Vancouver International Airport is generally rated highly by travelers. They love the convenience of staying at a hotel right in the terminal, and they are impressed that despite it's airport location, it is very quiet due to excellent soundproofing.
Everyone finds the YVR Fairmont spotlessly clean, comfortable and full of amenities. The staff are friendly, and the atmosphere serene. The Globe restaurant at the Fairmont also receives high marks for excellent food.
Overall, guests say the Fairmont at Vancouver Airport, while priced a little on the expensive side (but in line with other airport hotels) is well worth it and offers very good value.

Pictures of Fairmont Vancouver Airport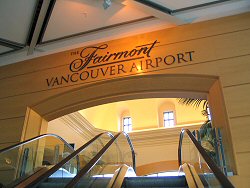 Escalator to Fairmont YVR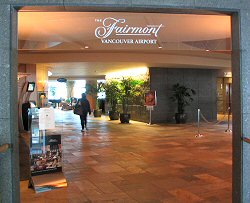 Fairmont Hotel Vancouver Airport Lobby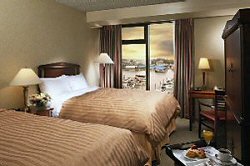 Fairmont Vancouver Airport Rooms
Tell us about the Fairmont Hotel.
Do you have a review on the Fairmont Hotel? Share it!
Privacy Policy & Disclaimer / Contact Us