By Darrin Robertson, VTT Editor - Updated: January 17, 2023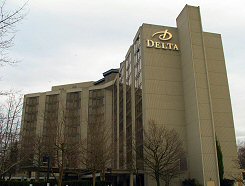 The Pacific Gateway Hotel at Vancouver Airport, formerly the Delta Vancouver Airport Hotel is the closest hotel to Vancouver International Airport that's not part of the airport itself (like the Fairmont). It's quite popular for business travel, as well as groups and those needing convention facilities. Convenience, good service, good restaurants and value are just a few of

Delta Hotel Closest Hotel to the Airport!
the reasons why the Delta is one of the most popular Vancouver Airport hotels.
Let's give you some more details about this nice hotel located close to YVR...
Delta Vancouver Airport - Location & Directions
Location: The Delta Vancouver Airport Hotel is less than 2 miles east of the domestic and international terminals at YVR.
Cheapest Rates at The Delta Hotel:
Surroundings / What it's Close to: For restaurants in & near the hotel, in the lobby you'll find the Hemisphere North Restaurant.

There is also the Elephant & Castle Restaurant & Pub (right next to the hotel), a very nice pub & grille in a great location right above the marina. A couple of other places to eat (Italian and Seafood) are about a 10 minute walk away.
It's also worth mentioning that the Vancouver Airport Park n' Fly Lot is within a 10 minute walk from the Delta Hotel.
Getting to It: The Delta Hotel airport shuttle stops at all the terminals at YVR, and it's a short 4 minute ride to the hotel.
Directions for Driving to the Delta Hotel Vancouver Airport: If you are renting a car at Vancouver Airport and want to drive to the Delta Hotel, it can be a little tricky. These directions are important for 2 reasons:
1. A wrong turn and you'll end up in downtown Richmond or on your way to Vancouver.
2. The directions on the hotel's own website are not entirely accurate.
You have to first find Miller Rd, a service road just south of the main road in and out of the airport (Grant McConachie Way).
Take Miller Rd east (away from the airport terminal) until you reach Russ Baker Way.
Even though the hotel will be right ahead of you, turn right onto Russ Baker Way, make your way into the left lane, and turn left onto Cessna Dr which will lead you back to the hotel.
Reviews of the Delta Hotel Vancouver Airport:
Reviews for the Delta Airport Hotel in Vancouver are generally positive, with lots of feedback from satisfied travelers.
What Guests Liked About the Delta Hotel YVR:
Nice views of the water (nearby marina), airport and mountains.
Convenient location close to the airport, without noise from the airport
Friendly, competent staff, prompt service
Comfortable beds
Good food at the restaurant, especially buffet breakfast
A Few Negative Comments included:
A few reports of noise between rooms
Some rooms smaller than others
Tell us about the Delta Hotel.
Do you have a review on the Delta Hotel? Share it!
Pictures of the Delta Vancouver Airport Hotel
Picture of the Lobby at the Delta Vancouver Airport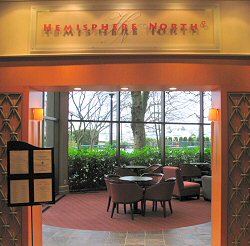 Hemisphere North Restaurant, Delta Hotel YVR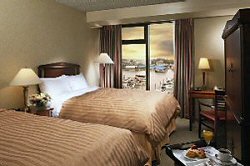 Picture of Hotel Rooms at the Delta Vancouver Airport
Tell us about the Delta Hotel.
Do you have a review on the Delta Hotel? Share it!
Privacy Policy & Disclaimer / Contact Us