By Darrin Robertson, VTT Editor - Updated: January 17, 2023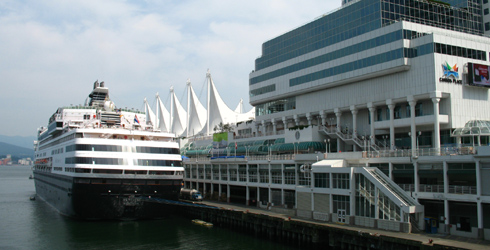 Going on a Cruise from Vancouver to Alaska!
Looking for a place to park your car in Vancouver for your Alaska cruise? Here is some current information about parking your car near the cruise ship terminals in Vancouver. We have also included information on Vancouver hotels with parking.
1. Alaska Cruise Parking at Canada Place
There is a 2-level parkade at Canada Place for both short term and long term cruise parking. The rates are:

Cruise Passenger Rate: $23.00 per day
Cruise Passenger Weekly Rate: $184.00 per week
The above are pre-booked rates only, reservations are made online at:
www.canadaplace.westpark.com
Short-term Rates:
$4.00 each half-hour or less.
$23.00 daily maximum all day 6am - 6pm.
$9.00 evening maximum - 6pm - 6am.
$32.00 daily maximum (6am - 6am)

** ALL ABOVE PRICING INCLUDES ALL APPLICABLE TAXES **

Advantages:

Very convenient, Secure, No reservations needed – just drive up! You can walk to the Canada Place cruise ship terminal – no taxi/shuttle van required!

Please Note:This parking lot is for Alaska cruise departing from Canada Place only.

The lot is operated by WestPark 604-669-7275 
2. Vancouver Hotels with Cruise Parking
There are many Vancouver hotels with cruise parking for before / after Alaska cruise packages that include parking and transfer by shuttle or taxi to the cruise ship terminal.
Pan Pacific Hotel– Parking services available for guests visiting Canada Place.
They have Valet parking with in & out privileges for Hotel Guests ($ 35.01 per night, including taxes) Hourly, short term and long term, cruise ship long term parking is also available. Parking Charges you each time your vehicle exits the parking garage.(no in/out privileges)
Daytime: $ 3.75 per 1/2 hour to a max. of $ 23.00 from 6am- 6pm Evening: $ 3.75 per 1/2 hour to a max. of $ 8.00 up to 6 am 24 Hour: $ 30.00 max.for a 24 hour period

Radisson Hotel Vancouver Airport **Special Promo**

This package includes 14 days of complimentary parking. Extra overnight parking is $10+tax per nite but only applicable when booking the Stop Over Rate - You must fly out or board cruise ship the next day to qualify for rate.

Coast Plaza Hotel & Suites- **Special pre or post cruise packages**

One night accommodations, $25 food and beverage credit for each day of stay for Room Service or The Brasserie Restaurant. Limo transportation to the cruise ship port (Pre-Cruise Package). Taxi transportation from your port to the hotel if a (Post-Cruise Package). Parking for the duration of your stay and cruise.
Privacy Policy & Disclaimer / Contact Us