By Darrin Robertson, VTT Editor - Updated: January 1, 2021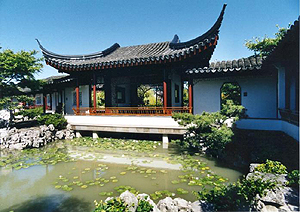 As you step into Dr Sun Yat-Sen Gardens, you are transported into a classical 15th century Chinese garden in the middle of the modern city of Vancouver.
The gardens present visitors with a breathtaking display of the architecture, landscaping and culture of the Chinese people.
Beautiful Garden at Dr Sun Yat Sen!
Dr Sun Yat Sen Gardens Seasonal Changes
The exhibits and cultural displays change seasonally, here's what you will see in the different seasons. 
Spring - Spring is considered the time of rejuvenation, where plum trees' blossoms invite songbirds to fill the air with sound.
Summer - Summer is the time for reflection, where visitors walk beside the many pools and ponds, where koi and turtles swim between the lily pads.
Autumn - Autumn the season of brilliance, presents a vivid display as the leaves change color.
Winter - Winter, meditations are welcome as the rain cascades from the tile roofs, falling to earth in preparation for the coming spring.
Location of Dr Sun Yat Sen Gardens 
Dr Sun Yet San Gardens is located at 578 Carrall Street Vancouver, a short walk from downtown as well as a short trip by car, bus or sky train from other parts of Vancouver and Richmond.
Visiting the gorgeous gardens is a must see while visiting Vancouver BC.
Special Features of the Gardens
The Gardens are completely accessible for the handicapped and many areas will accommodate groups who can sit and enjoy the beauty.
Undercover walkways, rooms and ramps ensure that guest visiting the gardens will be pleasurable even if it is raining.
Mahjong is played every Thursday and informational tours are included with every admission. Tea, which plays a vital role in the Chinese culture, is served to all who visit.
Hours of Operation of the Gardens
The hours of operation are also Seasonal.
During the Spring, the Dr. Sun Yat Sen Gardens open starting May 1 from 10:00 a.m. until 6:00 p.m. until June 14th.
Summer hours begin on June 15 from 9:30 a.m. until 7:00 p.m. Fall hours begin on September 1st from 10:00 a.m. until 6:00 p.m. until September 30th.
Winter hours begin on October 1 and continue until April 30th of the next year. The hours of winter operation are 10:00 a.m. until 4:30 p.m. From November 1st to April 30th, the gardens are not open on Mondays.
The gardens are open rain or shine and some exhibits only require the rain to appreciate their beauty. The gardens are open on Christmas Eve and New Years Eve but are closed on Christmas and New Years day.
Group Rates for the Gardens 
Any group with ten or more members qualifies for special rates and activities. Cultural activities can include a Tai Chi lesson, garden interpretation or a trip through Chinatown. Educational tours are also available to school groups. Contact the Dr Sun Yat Sen Gardens for more information including scheduling and costs.
Tell us about your favorite thing to do at Dr. Sun Yat-Sen Gardens
Do you have a favorite thing to do at Dr. Sun Yat-Sen Gardens? Share it!
Privacy Policy & Disclaimer / Contact Us