By Darrin Robertson, VTT Editor - Updated: January 17, 2023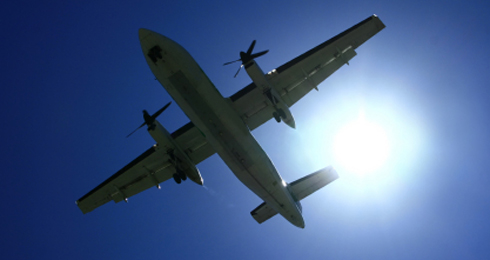 Leaving Kelowna on a Dash 8 Turboprop to Vancouver!
Here's some travel info for flights and airfares from Kelowna in the Okanagan Wine Country to Vancouver, BC Canada.
The route is popular for Western Canada business travel. It's also heavily travelled by people both in the interior of BC and in Vancouver and Vancouver Island looking for a weekend getaway.
Airport Code: The 3-letter IATA code for Kelowna airport is YLW.
Kelowna to Vancouver Flight Time: YLW – YVR flying time is around 50 minutes. So flying from the Okanagan to the West Coast makes sense when you consider that:
Distance from Kelowna to Vancouver is 400 kms (250 miles). That makes the driving time around 4.5 hours in the summer, and even longer in the winter.
A Greyhound bus ride from Kelowna to Vancouver will take an even longer 5.5 to 6 hrs! 
Kelowna to Vancouver Airfares
WestJet Kelowna – Vancouver Airfares: as low as $79 o/w $158 return (prices higher during high season)
WestJet Booking Tip: always check WestJet.com about 5 weeks before your departure date for the best seatsale. It's been our experience that they sometimes price their tickets at the cheapest fare around this time. 
Air Canada Jazz Kelowna – Vancouver Airfares: Tango airfares on Air Canada YLW - YVR flights are as low as $79 each way.
Air Canada Booking Tip: you can save up to $22 on a return Kelowna-Vancouver flight by using aircanada.com online reservations and choosing the following:
no aeroplan miles
no checked baggage
and no changes or cancellations allowed.
Compare Airfares between Vancouver and Kelowna BC: Tripadvisor.com offers many YVR-YLW air ticket deals.
The cheapest time of year to fly from Kelowna to Vancouver is usually the months between September and December, as well as January to May (avoiding the high season in summer).
Airlines & Flights from Kelowna to Vancouver
WestJet: 4 non-stop day 737 flights everyday except Saturday (you can also connect here with Edmonton – Kelowna and Calgary – Kelowna Westjet flights)

Air Canada & AC Jazz: Jazz is the commuter airline that operates Air Canada Kelowna – Vancouver flights. Combined with Air Canada mainline jet service, they have up to 7 YLW - YVR flights each weekday on Dash 8 turboprop aircraft and Bombardier Regional Jets.

Privacy Policy & Disclaimer / Contact Us