Tips on Flights from Montreal to Vancouver Airlines and the Cheapest YUL-YVR Airfares.
Flights from Montreal to Vancouver, this Information is here to Help you plan your trip.
---
VTT Home › Air Travel to Vancouver › Montreal to Vancouver Flights
By Darrin Robertson, VTT Editor - Updated: January 17, 2023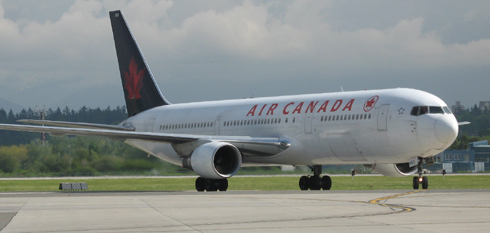 Landing in Vancouver on an Air Canada flight from Montreal!
When flying from Montreal to Vancouver you may make a stopover in Toronto as this is the most popular spot for connection for this flight.
When travelling from Montreal to Vancouver BC the flight distance is 2287 miles, this makes air travel the best choice.
The Montreal Airport code is YUL, the route code for Montreal to Vancouver is YUL-YVR. Air Canada and Westjet fly nonstop to Vancouver, and the flight time is 5 hours and 28 min.
Cheapest Flights from Montreal to Vancouver
These are Montreal to Vancouver seat fares for travel in early 2020

Westjet Airlines cheapest YUL-YVR airfares are around $477.00 round trip in economy class.

Air Canada cheapest YUL-YVR airfares is $661.00 round trip economy class.

Business Class YUL-YVR: A business class seat on Air Canada from YUL-YVR costs about $3900.00 for round trip airfare.

One-way Flights from Montreal to Vancouver: For those not needing a return fare, booking a one-way ticket can save you money.

The price of a one-way ticket is about $199.00.
What to Expect on Your Flight
Montreal to Vancouver most airlines have no in-flight meals only snacks.
Flying Executive/Business Class can benefit you by providing more comfort, space and a hot meal.
For your in-flight entertainment expect to view a movie, TV show or news about Canada.

Airlines that Fly from Montreal (YUL) to Vancouver (YVR):
They include Westjet, Air Canada, Alaska and others. Air Canada has the most non-stop flights between YUL and YVR.

There are over 130 flights per week that connect to Vancouver from Montreal.
What you will see when flying YUL-YVR
When flying from Montreal to Vancouver your view will depend on the weather.

Some of the things you will see are the beautiful province of Ontario with its beautiful rugged wilderness and the Prairie Provinces will amaze you with its wide open spaces.

One of the highlights of your trip will be as you approach the Alberta British Columbia border, you will enjoy the view of the majestic and awe inspiring Rocky Mountains and then your flight will finish in Beautiful Vancouver BC.
Flying to Vancouver on Business or Vacation?
Need a place to stay in Vancouver or the surrounding suburbs, here is more information on Vancouver Hotels or Vancouver Airport Hotels located in Richmond BC.

Visiting Vancouver and wondering what to do or see here, there are many
Attractions to see for the whole family to enjoy.

Privacy Policy & Disclaimer / Contact Us