January Weather in Vancouver, BC
A Guide to January Weather in Vancouver, BC Canada - Average Temperatures, What to Wear, and Vancouver Island and Whistler weather.
---
VTT Home › Weather for Vancouver Canada › Vancouver January Weather
By Darrin Robertson, VTT Editor - Updated: January 17, 2023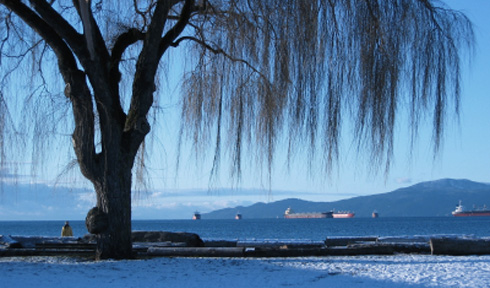 View of the Pacific Ocean from Vancouver in January!
January (along with December) is the coldest part of the year in Vancouver. The annual Polar Bear swim is held each year on January 1st in Vancouver down at English Bay. Brave individuals seeking a cure from New Year's Eve festivities take the plunge into the frigid waters of the Pacific Ocean…brrrrrrrr!
Temperature: the daytime high average temperature for January weather in Vancouver is 5 degrees Celcius ( 41 Farenheit). The average low temp is 0 degrees C (32F).
Rainfall / Sunshine: the average rainfall for Vancouver in January is about 130 mm (less than November and December). But, it's a rather cloudy month - in January, Vancouver has fewer days of sunshine (total of 55 hours) than any other month of the year except December).
Sunrise & Sunset: the sunrise in January in Vancouver ranges from 7:45 AM to 8:07 AM. Sunset in January varies from 4:25 PM to 5:07 PM.
What to wear in January in Vancouver
For the outdoors, you'll want a rain-repellent windbreaker style coat or jacket, plus a sweater and some long-sleeved shirts. Try to bring footwear that will keep your feet both warm and dry.
Also, if you forget to bring an umbrella, don't worry - you can always get one here (there's even a vending machine with umbrellas at the airport!)January weather in Vancouver can make going outside a challange, but well worth the effort.
January Weather in Whistler, BC
Driving to Whistler in January is usually fine, although you need to be cautious about icy road conditions on the Sea-to-Sky Highway. During Blizzards or heavy snowfall, portions of the road can be closed. Snow tires are recommended for cars.
You don't need chains or snow tires to drive in Vancouver in January. But for driving/travel through the Canadian Rockies, you'll want to have snow tires for sure and perhaps a set of chains with you just in case. Otherwise, it's generally safe.
Whistler Hotel Deals – For a January ski packages in Whistler, see these specials for the top Whistler/Blackcomb Lodges & Resorts.
January Weather on Vancouver Island
January weather in Vancouver Island during the winter is similar to that of Vancouver, although there are a few differences. Weather in Victoria, BC is mild (average low temperature of 2 degrees, with a high of 6). Victoria gets a bit more wind in the winter as well, and has been known to experience snow early in the new year (although it often melts quickly).
Towards the west coast and up into Northern Vancouver Island, winter storms can be spectacular, but can mean lots of rain, high wind and road hazards.
For the latest updated road conditions in Vancouver, Whistler, Victoria and Vancouver Island, check out DriveBC.com