Marriott Hotel YVR
by The Bakshi's
(Calgary Canada)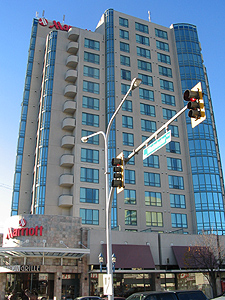 Our stay at the Marriott Hotel YVR
My family and I were looking for a hotel to stay at while in Richmond visiting my mom. Her house was too small for all of us to stay with her, so we decided to just get a hotel for the week. Boy, we sure were glad my mom had a small house, because we had a blast staying at the Marriott Hotel!

The location was great for my wife and my daughter, because there was a mall right beside us, and the skytrain was really close too, so we even got to go into Vancouver for a day and see the
Space Centre

The location of the hotel did alot for us for sure. It's near everything! It didn't take us more than 10 mins to get anywhere or do anything...Skating, movies, shopping, swimming, anything!

The lobby and the rooms were great too, and the restaurant there was delicious!

Off of each room, there were also balconies, and they were really big, which was great because we got a nice view of the city, there are many things to do in Richmond.

The staff and all of the other people were all really nice to us, so that was good, and it's also a Pet Friendly Hotel, which is good, because you can never find good pet-free hotels anymore!

So anyways, the Marriott is a great place to stay! We loved it!