By Darrin Robertson, VTT Editor - Updated: January 17, 2023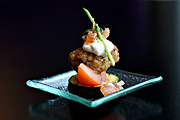 Fine Dining in Whistler! 
Whistler has many places to eat, in fact there are over 150 food places in Whistler alone, here is a guide to help you make the perfect choice to fit your needs and budget. 
Araxi - Araxi restaurant and oyster bar has a great reputation for its food and wine. Araxi was in the public eye when Gordon Ramsey's of Hells Kitchen announced that the winner of his show would be Head Chef.
Fine Dining Restaurants
Il Caminetto di Umberto - After 20 years Il Caminetto di Umberto is still making great food with pasta being prominent on the menu. Many have come and gone but the best remain, visit Il Caminetto di Umberto and enjoy your meal.

La Trattoria di Umberto's - With its wide array of fish, meats and pastas, La Trattoria di Umberto's lets you sit back and relax and enjoy their quality food and great service.

Edgewater Lodge Restaurant - Edgewater Lodge Restaurant is one of Whistler's best kept secrets. Located on beautiful Green Lake, you will enjoy continental dishes and gorgeous views of the mountains and lake.
Deals on Great Restaurants in Whistler

Bearfoot Bistro - The Bearfoot Bistro has some local cuisine, Wild Arctic Caribou Chop and Vancouver Island Black Cod. Their wine and champagne selection will please all discerning pallets. Looking for Dom Perignon, the Bearfoot Bistro is honored to be 1 of 150 places in the world that houses Dom Perignon.

La Rua Restaurante - International cuisine with a touch of the Pacific Northwest is what to expect from La Rua Restaurante. The menu has seafood, steak & game.

Rim Rock Café - If your looking for fish and game, the Rim Rock is where it's at. Locals agree this is one of the best places to enjoy a meal in Whistler.

Casual Dining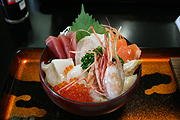 Freshly made Sushi in Whistler!

Sushi Village - Sushi Village has a casual atmosphere, fresh sushi and great sake margaritas, come for a social experience with friends.

Earls - Earl's causal atmosphere, friendly and fun staff makes this a great place to enjoy their burgers or full entrée dishes.

Elements - Elements was voted the best place for tapas in Whistler. Elements serves breakfast, lunch and dinner.

The Keg - The Keg is one of the best places to eat in whistler. They are known for their world famous Steaks, the menu offers something for everyone's taste.

Caramba Restaraunte - Mediterranean influenced food with a casual atmosphere, great service and friendly staff.

Mongolie Grill - Mongolie Grill is world famous for its Stir fry. Pick your ingredients and the Mongolie chefs prepare and cook it right in front of you.

21 Steps - 21 Steps is a casual restaurant where you can enjoy tapas style dinners or full entrée dishes. Its attic bar makes this a great place to eat and lounge with friends.

Brewhouse - Come and enjoy a meal or just drink a pint at the Brewhouse. The menu ranges from beef to pastas and pizza.

Family Restaurants and Quick Eats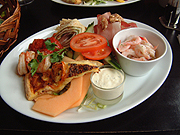 Good Healthy dinner!

Old Spaghetti Factory - The Old Spaghetti Factory is a great dining value. The menu has great pasta dishes with a children's menu. Their friendly staff make this a great place for families to enjoy a meal together.

Moguls Coffee House - Need that cup of coffee, the Moguls Coffee House is where to go for fresh coffee and baked goods. Enjoy a cup of coffee or tea and a newspaper on their patio and soak up the day.

Checkout more deals and things to do in Whistler

Dups Burritos - Dups Burritos has great Mexican food. If your really hungry and looking for places to eat in whistler that will fill you up then try the 'Fatty' the two-pound burrito, if you finish it they will hang your photo on the wall.

Beet Root Café - The Beet Root Café is open in the morning and afternoon, featuring breakfast burritos, sandwiches, salads and soups.

Lift Coffee Co. - Lift Coffee Co. is a nice little café this is one of the many places to eat in whistler with warm hospitality and a really cool atmosphere. The menu has a variety of sandwiches and Mexican enchiladas and quesadillas.

Ingrids - Family café with friendly staff, serving veggie burgers, wraps, sandwiches and homemade baked goods.

Zogs - Looking for inexpensive places to eat in whistler that have good food? Then Zog's hot dog stand located in the village offers hot dogs, fries and beavertails for dessert (fried pastry). 

Whistler Photos
Our favorite pictures of Whistler from our time there in the Winter and Summer.
---
Got a Favorite Place to Eat in Whistler?
Do you have a favorite place to eat in Whistler? Share it!
Our Readers Favorite places to eat in Whistler
Click below to see contributions from other visitors to this page...

One of the best places to eat in Whistler Not rated yet
We think Elements Urban Tapas is one of the best places to eat in Whistler . Just off the back side of the main walkway of Whistler is a place we like …
Privacy Policy & Disclaimer / Contact Us