By Darrin Robertson, VTT Editor - Updated: January 17, 2023
Robson St. is the main shopping street in Vancouver, Canada.  It's also a main tourist strip to walk around relax at a local coffee shop and then shop some more.  This area of Vancouver is safe to walk around in, close to shopping, hotels, skytrain and bus lines.
Shopping on Robson St.
Hours: Shops are usually open from 9 AM till 9 PM
This shopping area could be considered Vancouver's version of Rodeo Drive in Beverly Hills, or London's Oxford Street. At the same time, there is something for everyone here.

And the prices, while certainly no bargain basement, are definitely middle of the road. Popular stores where you can find some uniquely Canadian items include:

Roots (Canadian designer wear)

HMV (good selection of music from Canadian bands and artists)

Lululemon (Popular Canadian women's clothing store)
If you're just wanting to do some souvenir hunting, you'll come across lots of shops with postcards, art work, and knick knacks galore!
How Far is Robson St. from…
Cruise Ship Terminal: 16 minute walk - Head northwest on Waterfront Rd W toward Howe St, Continue onto Canada Pl straight onto Burrard Pl. Burrard Pl turns slightly left and becomes Thurlow St. Turn right onto Robson St.
Stanley Park: 5 minute walk – Head south on Stanley Park Drive. Left onto Georgia St. Right on Denman St. walk 3 blocks down to Robson St.
Downtown Vancouver Hotels: Most Downtown Vancouver Hotels are only a few minutes walk from Robson St.
Yaletown: 13 minute walk – Head northeast on Richards Street and left onto Robson St.
Rogers Arena: Only a few minutes walk depending where on Robson St. you start. Rogers Arena is one block east of Robson St. at 800 Griffiths Way.
YVR: 40 minutes By walking and riding the Skytrain – Walk to YVR Airport Station Eastbound. Take train 980 to Vancouver City Centre Station Northbound, walk one block west on Granville Street to Robson St. 
Restaurants on Robson Street
This area of the city is a kaleidoscope of food and drink from all over the world. There's Canadian, Chinese, Japanese, Korean, Indian, Thai, vegetarian and Middle Eastern cuisine here just to name a few. You'll also find some excellent Vancouver eateries just off Robson on Bute and Thurlow streets.
Best Vancouver restaurants in the area: Here are some tips on where to eat.
Capers  


Hon's Wun-Tun House


Cactus Club


Thai House


Zin
For more restaurants checkout the Best Places to Eat in Vancouver.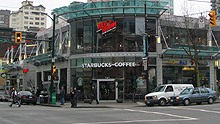 Robson St. Starbucks!

Best Coffee Shops: There are 2 Starbucks on Robson St, kitty-corner from each other one at 1099 and the other at 1100 Robson St.
Another good Coffee shop is Blenz on the corner of Bute and Robson, 1201 Robson St.
Robson Street Hotels
There are many hotels in this area here are a few hotels close to Robson St.

Pacific Palisades Hotel


Blue Horizon Hotel


Robsonstrasse Hotel & Suites
Tell us about your favorite store or place on Robson Street
Do you have a favorite store or place on Robson Street? Share it!
Our Readers Favorite stores or places on Robson Street
Click below to see contributions from other visitors to this page...

Robson Street Shopping Not rated yet
Hi My name is Cindi, I'm visiting from Chicago and found this great store called Lululemon . The clothes and the staff were great they helped me find …
Privacy Policy & Disclaimer / Contact Us