By Darrin Robertson, VTT Editor - Updated: January 17, 2023
There are many things to do in Cultus Lake for the whole family and it is only 1 1/2 hours away from Vancouver. 
Cultus Lake "Ours to protect and preserve" is nature at its best a real natural paradise.

Activities at Cultus Lake, there is fishing and many boating activities like renting a kayak or jet ski or even a power boat to enjoy and explore the lake.

You can sit by the lake and relax and enjoy the natural beauty of the area.
Places to stay at Cultus Lake
There are many places to stay or camp in Cultus Lake. You can rent a cabin, bring your trailer or tent to the Sunnyside Camp grounds or Vedder River Campgrounds.Go here for more information on Camping.
Camping - Sunnyside Campground - Located at 3405 Columbia Valley Highway is open from March to September 30 this is a nice quiet place to spend some time away from the city. There is no need to worry that other campers might get to loud, there are no amplified sound systems allowed and there is a "Quiet time from 11pm to 7 am".You can even bring the family pet.
Sunnyside Campgrounds even has its own store where you can buy groceries, firewood, ice and camping supplies.
Firewood - There are many places to buy firewood in the area, this makes it convenient and saves you having to bring your own. If staying at a campsite check to see if camp fires are aloud as sometimes during the very dry times you may not be able to have a campfire.
Cabin Rentals - Cultus Lake Park has 8 different size cabins to stay in, that sleep from 2 – 8. Go here for more information on cabin rentals at Cultus Lake.
Things to do in Cultus Lake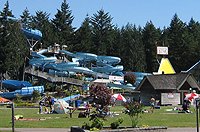 Water Park – Cultus Lake Water park is one of the best things to do in Cultus Lake. This is the best water park in BC. It has waterslides for smaller kids and slides for kids of all ages. Enjoy cooling off at the Cultus Waterslide Park.
Cooling off at Cultus Waterslides!
Beauty of Cultus Lake - If you're looking for one of the best things to do in Cultus Lake as a family, pack a lunch and go to one of the many places to picnic around Cultus Lake.
Take a stroll along the lake and see the rows of houses that are in the area, many are for rent.
Golf - There is a 9 hole golf course and a kids golf adventure that you can play in the natural settings of Cultus Lake.
Tap-Ins Putting Course 4000 Columbia Valley Hwy, Cultus Lake, BC V2R 5H5 Tel: 604-858-7888
Giggle Ridge Adventure Golf Tel: 604-858-7816 Email:dan@giggleridge.com
Photos of Cultus Lake
Here are a few Large Pictures we have take while staying near the lake.
Places to eat in Cultus Lake
There are many places to eat, take out, fast food, side cafes and family restaurants. Sushi lovers try Sora Sushi and Teriyaki for some great sushi and Japanese food.
Manos Steakhouse - Manos Steakhouse is a great place to relax and enjoy a meal after a busy day.


Ice Cream - On those hot summer days on Cultus Lake take the time to cool of with some ice cream, there are many ice cream parlors close to the lake. Café Vanilla Gellato Ice cream at 8 4125 Columbia Valley Highway has great Gellato.

Eat outdoors There is a nice family spot in the park that is right on the lake where you can have a barbeque pack a lunch or eat at the fast food restaurant right on the beach. There are many areas the park has made accessible for all to swim or sunbath on the many docks at the park.
Outdoor Tip Be careful bears sometimes visit late at night so if your out on a walk make some noise to warn these animals that you are near and they will leave you alone.


Tell us about your favorite thing to do at Cultus Lake.
Do you have a favorite thing to do at Cultus Lake or experience? Share it!
Our Readers favorite things to do at Cultus Lake.
Click below to see contributions from other visitors to this page...

Privacy Policy & Disclaimer / Contact Us