By Darrin Robertson, VTT Editor - Updated: January 17, 2023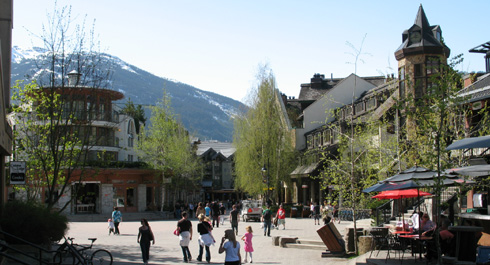 Walking around Whistler Village!
Things To Do in the Summer in Whistler
Not only is Whistler a world class ski resort, it's also one of the most beautiful summer getaway locations. Even a day trip to Whistler makes it worth the 2 hour drive.
There are many things to do at Whistler with its many activities, beautiful parks and lakes.
Family Fun Adventure Zone - Not cheap but worth the money as kids of all ages will enjoy all the activities that are at the Adventure Zone. From bungee trampoline, mini golf, a climbing wall and horse trails this is great fun for the whole family.
Golfing - There are many places to golf near Whistler, here are our favorite places to golf.
Big Sky Golf and Country Club, Nicklaus North Golf Course, Whistler Golf Club and the Chateau Whistler Golf Club

Deals on golfing at Whistlers golf courses

Hiking - Whether you are a beginner or expert there are many exciting trails to hike and experience this natural wonderland. Many trails are within minutes of Whistler Village while others are located on snow capped mountains of Whistler or Blackcomb Mountain.

Mountaineering and Rock Climbing - Whistler offers some of the best rock climbing in the world. Whether you are a novice or an experienced climber Whistler promises a great experience. There are instructional sessions available for beginners and most tours will have you climbing the same day.

Mountain Biking - Whistler Mountain Bike Park is a great riding experience. There are more than 200 kilometers of trails in old growth forests with teeter-totters, table tops and many drops. From beginner to expert this will be an awesome ride.

Zipline Tours - Ever wanted to zip over and through a forest high above the tree tops, this unique and exciting experience awaits you at Whistler Mountain. Open all year and only minutes away from Whistler Village.

Whistler Bear Viewing - Black bears live all around Whistler Mountain. Take a trip in a 4X4 vehicle and see these awesome creatures in their natural habitat. 
Water Activities
White Water River Rafting - With the snow gone the rivers are full and ready for white water rafting. From mild to wild the ride is safely navigated by certified guides to make this a great adventure. 

Whistler Jet Boating - If you like to move fast on the water Whistler Jet Boating is for you. This tour will take you from still waters to fast moving rivers and see the beauty of the Nairn Falls. 

Whistler Canoeing - Want to slow it down, try Whistler canoeing for a two hour guided tour of spectacular views of the mountains, the wetland areas and wild life. 

Check out Whistler's Events Calendar for summer long events and festivals.
Things To Do in Whistler in the Winter
Deals on skiing at Whistler Mountain

Skiing - Skiing, and more skiing and don't forget snowboarding on Whistler Mountain. Skiing and snowboarding brings visitors from all over the world to Whistler in the winter.

The 2010 Winter Olympics showed the world how great the slopes and powder of Whistle and Blackcomb can be. Snowshoeing, snowboarding, downhill and cross-country skiing can all be enjoyed at this world renowned resort.  There are many things to do in Whistler it just takes you to decide what to do.
Places to see on your way to Whistler Mountain
Shannon Falls – Just a few minutes walk through the forest and you can experience these beautiful falls. 
Squamish- This little resort town offers many visitors the opportunity to stock up on things before heading to the more expensive Whistler Mountain area. 

Brittania Beach – The BC Mining Museum is a great place to visit and learn what mining was like decades ago – the kids will love mining for gold! 
Whistler Photos
See some great pictures of  things to do in Whistler in the Winter and Summer.
---
Tell us about your favorite thing to do in Whistler.
Do you have a favorite thing to do in Whistler? Share it!
Our Readers favorite things to do in Whistler.
Click below to see contributions from other visitors to this page...

Whistler – The Perfect Ski Holiday Not rated yet
If you're looking for the perfect winter destination for skiing, snowboarding and outdoor recreation, Whistler has you covered. If it's your first …
Privacy Policy & Disclaimer / Contact Us