By Darrin Robertson, VTT Editor - Updated: January 17, 2023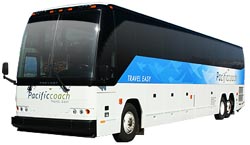 Pacific Coach bus heading to the Ferry in Vancouver!
Pacific Coach Bus Line offers daily Ferry Shuttle Bus transportation from Vancouver Airport to the Downtown Victoria bus terminal.
Where to catch the Airport Ferry Shuttle Bus
For international flights go to International arrivals area bus bay six.  For domestic flights go to domestic arrival carousel six.  Pickup service is also available from the River Rock Casino and Resort by reservation only.
Vancouver Airport Ferry Shuttle Bus Fares
Ticket For: Senior One Way: $32.55 Return: $63.10.
Ticket For: Adult One Way: $46.55 Return: $91.10. 
Ticket For: Child One Way: $23.28 Return: $45.55.
All fares are subject to change without notice.
Group Reservations and Information
Group rates available if you're traveling in a group of 15 or more.
Students
Student fares are applicable for students who have valid student ID and one piece of government ID.
BC Seniors
BC Senior's fare only applies to BC Seniors. BC Senior's fare is valid Monday to Thursday except on statutory holidays. From Friday to Sunday and statutory holidays, adult fares apply.
Children
Child fares are applicable for children from ages 5 - 11 years. Children age 4 and under including infants travel on the coach for free.

FAQ: How long does it take to go from Vancouver Airport ( YVR ) to Victoria BC?
If all goes well and there are no delays it takes 4 hours, so enjoy the ride and the beautiful view of Vancouver Island on your trip.
Daily Vancouver Airport Ferry Shuttle Bus Schedule
Leaves Vancouver Airport ( YVR )
7:40 AM, 9:40 AM, 11:40 AM, 1:40 PM, 3:40 PM, 5:40 PM, 7:40 PM
Leaves Richmond ( River Rock Casino )
7:55 AM, 9:55 AM, 11:55 AM, 1:55 PM, 3:55 PM, 5:55 PM, 7:55 PM
Leaves Tsawwassen Ferry Terminal
9:00 AM, 11:00 AM, 1:00 PM, 3:00 PM, 5:00 PM, 7:00 PM, 9:00 PM
Leaves Swartz Bay Ferry Terminal ( Vancouver Island )
10:35: AM, 12:35 PM, 2:35 PM, 4:35 PM, 6:35 PM, 10:35 PM
Arrives Victoria Bus Terminal
11:30 AM, 1:30 PM, 3:30 PM, 5:30 PM, 7:30 PM, 9:30 PM, 11:30 PM
Disclaimer - Please Note: This page is a general guide only - It is NOT part of the Pacific Coach website. Ferry shuttle Bus schedules, fares and services are subject to frequent change. Please consult Pacific Coach before starting any travel. Vancouver Travel Tips.com accepts no responsibility for any loss, injury or inconvenience sustained by anyone resulting from this information.

Privacy Policy & Disclaimer / Contact Us