By Darrin Robertson, VTT Editor - Updated: January 17, 2023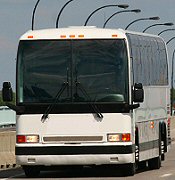 On a Vancouver Airport bus to Seattle!
If you're flight ends at Vancouver Airport, but you need to transfer to Seattle Airport or downtown Seattle, there is shuttle bus transportation from YVR Airport to Seattle.
The Quick Shuttle is a bus service that connects YVR airport to Seattle airport and downtown Seattle. It also stops in downtown Vancouver, and at Bellingham Airport and Everett, WA.
It's a cheap and practical way of getting from Vancouver International Airport to Seattle Airport (SeaTac).
You can board the Vancouver to Seattle shuttle bus outside the International Terminal building on level 2.
We have more information here on Public Transportation and Driving directions from Vancouver Airport to Seattle
Tickets can be purchased at:
The Tourist Infocentre, just past immigration and baggage claim on the arrivals level 2 of the international terminal.
The YVR Airporter bus counter, outside main doors, arrivals level international terminal.
The Shuttle makes up to 5 pick-ups a day at YVR between 5:30 AM and 6:10 PM.
The distance from Vancouver Airport to SEA Airport (SeaTac Seattle) is approximately 145 miles (235kms). Travel time from YVR to Seattle on the bus is about 3.15 hrs.
The shuttle bus will arrive at Seattle airport at the south end of baggage claim.
Prices for the Vancouver - Seattle Shuttle Bus: To Seattle Airport, the price for an adult is $56 one way or $99 return. Seniors, students, children and military personal travel at a discount.
(Once again, prices, schedules and information can change, so always contact Quickcoach.ca before planning your travel)
Disclaimer: This page is a general guide only - It is NOT the official Quick Shuttle website. Quick Shuttle schedules, fares and services are subject to frequent change. Vancouver Travel Tips.com accepts no responsibility for any loss, injury or inconvenience sustained by anyone resulting from this information. Please consult Quickcoach.ca and yvr.ca before starting any travel.

Privacy Policy & Disclaimer / Contact Us