Vancouver Sightseeing Attractions
by The Glantons
(Chicago)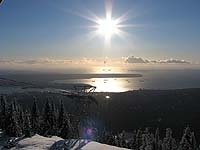 Grouse Mountain
We had a great time during our stay in Vancouver thanks to Gray Line West Coast Sightseeing.

We did a trip to Victoria and the Butchart Gardens the first day and the ferry ride was stunning. The gardens are so immaculately kept and our tour guide was amazing. Victoria is such a beautiful city, with the Parliament buildings and the Empress Hotel.

The next day we went to Grouse mountain and visited the Capilano Suspension Bridge on the way. The Grizzly Bears are huge and we saw the "eye of the wind" wind turbine at Grouse Mountain. What a view! The Capilano Suspension Bridge is in a beautiful canyon and sways a little as you walk across it, it's exciting!

The last day we went to Whistler and we did some great stops along the way at Shannon Falls and Brandywine Falls. The drive up is beautiful and in Whistler you can take the gondola right up to the top and do the Peak2Peak gondola across the whole valley.

We didn't get to do the City Tour or the Spirit of Klahowya Tour, but I'm sure they would be great too.
Join in and write your own page! It's easy to do. How? Simply click here to return to Vancouver Tourist Attraction.