By Darrin Robertson, VTT Editor - Updated: January 17, 2023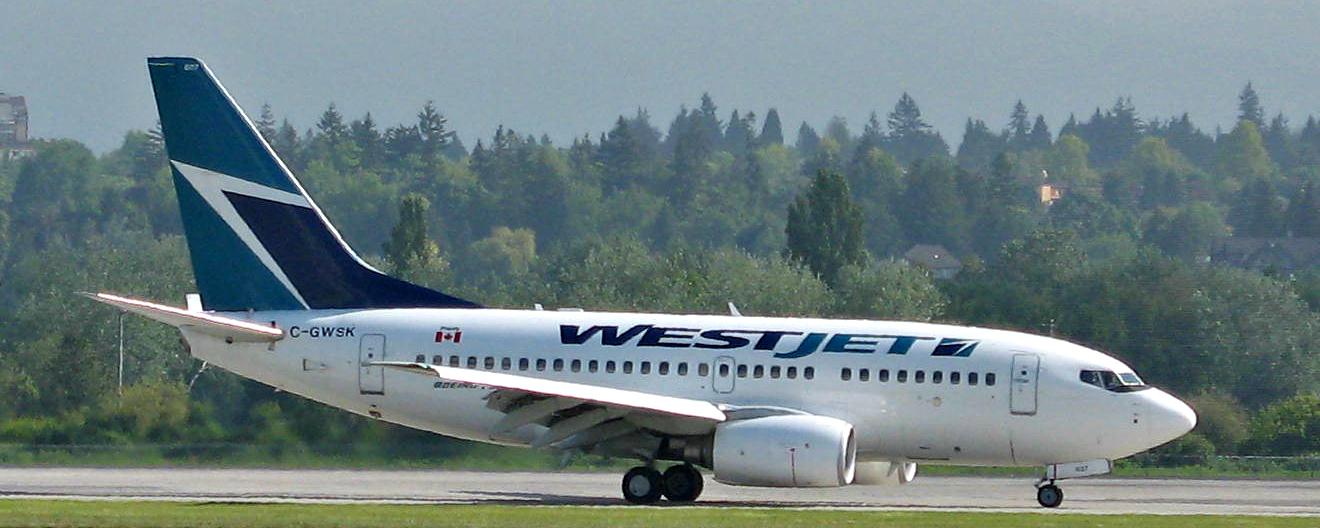 WestJet Landing at Vancouver Airport!
A Sample of the Best WestJet Prices To/From Vancouver
Here's our guide to sales on airfares at WestJet. When it comes to the cheapest airline tickets to Vancouver from other parts of Canada and the USA, sometimes Air Canada introduces the specials, and other times WestJet sales are first.
WestJet has been having more Seat Sales as of late.
Here we will give you an idea of WestJet fares and destinations that go on sale to/from Vancouver, BC Canada. (Note: This is just an example of some of WestJet airlines best prices during the spring and summer.).
Typical Seat Sale Prices* for WestJet Flights between Vancouver and:
Kelowna: A short 50 minute flight and only costing between $99 - $109
Calgary: 1 hour and 20 minute flight from Vancouver over the beautiful Rocky Mountains to Calgary: $109 - $149
Edmonton: Just North of Calgary is Edmonton with a flight time of 1 hour and 25 minutes: $109 - $159
Saskatoon: Vancouver to Saskatoon (YXE) international Airport with a flight time of 3 hours:$119 -$189
Winnipeg: Located in the province of Manitoba with a flight travel time of 2 hours and 39minutes: $169 - $229
Toronto: One of the most visited cities in Canada, flight time of 4 hours and 29 minutes:$169 - $279
Ottawa: Beautiful in the Summer and Winter is the capital of Canada Ottawa with a flight time of 5 hours and 30 minutes:$199 - $299
Montreal: Beautiful French Montreal is only 4 hours and 46 minutes away from Vancouver:$199 - $299
Halifax: A popular spot to visit in Eastern Canada a bit of a long flight 6 hours and 30 minutes: $279 - $359
(*prices quoted above are examples of WestJet one-way seat sale fares and do not include taxes, fees & fuel surcharges.)
Tips for Booking WestJet Cheap Tickets
Get on the WestJet e-mail list right away, so you can be notified of seatsales and the cheapest airfares as they become available.
Be flexible and be ready to book quickly – right on the spot if possible for the best seats.
For the cheapest WestJet Seat sales, try to plan your flights on the following days of the week: Monday, Tuesday, Wednesday and Thursday.
If you don't mind departing around midnight, WestJet red-eye flights can sometimes be cheaper.
From time to time, WestJet has promo codes which can reduce the price of an airfare even more. And if you are a cardholder, look out for WestJet Airmiles coupon codes as well.
Obviously, trying to get a cheap ticket on Westjet during the Christmas/New Years travel period as well as other busy times of the year like Canada Day, Labor Day, Thanksgiving and so on is very difficult. Low and "Shoulder" season offer the best value.
Where to Go Next For WestJet Seat Sales :
The official website for Westjet - all the latest seat sales, plus find out the daily and weekly schedules for WestJet flights in Canada, USA, Hawaii and the Caribbean.
Privacy Policy & Disclaimer / Contact Us