By Darrin Robertson, VTT Editor - Updated: January 17, 2023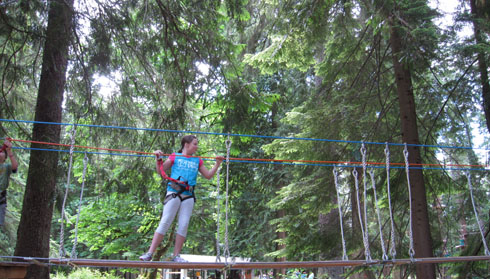 Up in the trees at Wildplay in Maple Ridge!
Wildplay in Maple Ridge is a great Vancouver Tourist Attraction, this park will get your feet off the ground and up into the trees for an exciting climbing and zip lining adventure.
Here are the two closest locations, Maple Ridge 1 hr. from Vancouver at 23485 Fern Cres. Maple Ridge. and one in Whistler only 2 hrs away at Cougar Mountain, at 16 Mile Creek.
We have been to the Maple Ridge Park many times and each time is a new challenge and a new adventure, here is a tip take someone with you that has not had this adventure you will re-live your first time through their eyes.
Planning your WildPlay Maple Ridge Adventure
The first thing you need to do is call ahead and make a reservation, the staff at wildplay make it their goal not to rush anyone through this adventure, they make sure that only a set number of people are using the park to give everyone the time no matter what their speed.
This is one of the BEST things about the park, not having to rush though because others are going at a faster speed than you especially if you have kids or your just a little slower yourself.
What to expect at WildPlay Maple Ridge 
Expect the unexpected, no matter what you think about this park expect to be blown away with this safe and fun adventure as you climb through the trees higher and higher.
While doing this adventure your focus is not on how high you are climbing but how much fun you are having.

Whether you are climbing on a wooden bridge or zipping down a zipline your fun and safety are first place.

Looking for a place that has the clean smell of nature than this is the place, smoking is not permitted and there is zero tolerance on drugs and alcohol so no need to worry that someone may ruin your day.
Beginning of your Fun
Here is how your adventure will begin, after reading and filling out the park safety form you are taken to an area where experienced park staff teach you all that you will need to know to have a fun and exciting day at the park.
Next you are strapped into your climbing harness that has double the safety lines, they then take you to a mini climbing area that is only 2 ft off the ground where the instructor shows you the safety techniques to climbing.
This step will prepare you for when you are higher in the trees and if you don't pass, back to the beginning you go as the staff stresses safety first, after you complete the mini course you are all set for your fun and adventure.
Tips for have a great time at Wildplay
Take a small bottle of water up with you. Don't drink a lot of water before you start (or use the washroom before you start) once you get on the climbing track there is no climbing down and using the washroom or starting over.
At first we thought this was strange but the staff want to make sure that only a set number of people are on the climbing area at a time to make everyone's time as much fun as they can.
Take your camera to record all the fun you will be having to show your friends and to relive them again and again, but make sure you strap it to your wrist for safety.
If you wear glasses make sure you have some way to secure them so that they will not fall off, when we were there a fellow adventurer had his glasses fall off this made it harder for them to complete the course and took away some of the fun.
Is it fun just to watch?
Last time we went with a group that had a small child that could not use the course as there is a age and height requirement that was mentioned under the heading of Climbing access requirements.
So we sat out and watched their child, ok mostly we just looked up and followed them from the ground as the climbed higher and higher taking pictures, videos and having a great time watching them.
There a places to sit and watch and this was fun for us and their child as she saw her Mom and Dad having a great time.
Courses at the Wildplay Maple Ridge
There are two main courses at Wildplay Maple Ridge one just for kids ages 7 - 13 called Monkido Kids.
The other main course is the big one called Monkido, children 7 - 11 must be accompanied by an adult, this course has 4 sections that test your skill and adventurers spirit to climb higher and higher.
Starting with the green section for an easy climb leading to the black section which is more difficult, don't stop push yourself do the whole course you will just love it.
If you just can't go any farther remember the only way off the course is at the start of a new section, look for the sign that tells you to exit now or continue on to the next level.
Climbing access requirements
Safety is the first thing on the staffs mind then your fun can begin here is a list of requirements to using the park.
Monkido Kids
Kids 7 - 13 that can reach upto 4' 7"
Monkido
Kids 7 - 11 must be able to reach upto 5'11" and have an adult accompany them.
Kids 12 and older must also be able to reach upto 5' 11"
What to do after the Climbing at Wildplay Maple Ridge
Pack a picnic lunch there are eating areas in the park and right next to the parking area is a community park where you can barbecue and have lunch throw or kick a ball around.
Just 30 minutes away is the beautiful Alouette Lake, were everyone has a great time relaxing in BC's natural beauty, what a way to finish off your day after experiencing climbing at a Vancouver Tourist Attraction.
WildPlay Maple Ridge park hours vary based on the weather and season call ahead to confirm your reservation and hours of operation for more information visit their Website at WildPlay Park Maple Ridge
Tell us about your favorite thing to do at Wildplay Maple Ridge
Do you have a favorite thing to do at Wildplay Maple Ridge? Share it!
Privacy Policy & Disclaimer / Contact Us