By Darrin Robertson, VTT Editor - Updated: January 3, 2022
If there is one distinguishing landmark in Vancouver, Canada Place is it!
Originally built for EXPO 86, the combination hotel/convention center/cruise ship terminal shows up in at least half of all Vancouver postcards, and is the outstanding piece of architecture along the Vancouver waterfront.
A focal point of the downtown, and a meeting place for residents and tourists alike. Here you will find some great views - it's one of the best places to take pictures of the Mountains & North Vancouver (don't forget your camera!)
A walk to the north end of the building provides unobstructed views of Burrard Inlet, the North Shore Mountains, North and West Vancouver, and Stanley park. You'll see boats and ships, seagulls, the Seabus and floatplanes taking off. And behind you is downtown Vancouver, especially impressive at night with the city lights.
Restaurants Close to Canada Place 
There are lots of places to eat near the cruise ship terminal at C.P. - here's a brief look at some restaurants close by from cheap meals to formal dining. All of these places are within walking distance:

Aqua Riva- Great views of C.P. the cruise ships and North Shore Mountains. Pacific Rim seafood specialities with an extensive selection of BC wines. It's worthwhile to check the Georgia Straight weekly entertainment paper for Aqua Riva restaurant discount coupons. (200 Granville Street, 604-683-5599).

Five Sails Restaurant– The top restaurant at C.P., specializing in Pacific Northwest seafood dishes and an extensive wine list. Outstanding views of the ocean and mountains.

Waterfront Centre Food Court - Located just across the street on the southside on the lower level. Affordable fast food just minutes away.
Restaurants in Gastown
Just a few minutes walk from C.P. is Gastown , there is a great selection of Vancouver eateries, from cheap to fine dining.

Water Street Cafeis a one of the best places to eat in Gastown.
Canada Place Attractions
Pan Pacific Hotel- like the rest of the Pan Pacific chain, this one is very luxurious.

It's worth a walk around the lobby just to experience the magnificent setting of this 5 star Vancouver waterfront hotel/resort. Drink at the Pub?

Cruise Ship Terminal - One of two Alaska cruise ship terminals in Vancouver is located here, making C.P. one of the most scenic and unique cruise ship ports in the world. Even if you're not on a cruise, you can enjoy great views up close of the giant cruiseships.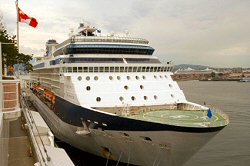 Shopping and Dining - Pacific Center Mall is an underground mall in downtown Vancouver full of more than 140 shops and restaurants. When it's raining outside, this is a fine place to spend a couple of hours. The north end of the mall is a short walk from C.P.
Seabus & Skytrain - it's just a short walk from C.P. to a couple of interesting public transit services. You can ride the Seabus over to North Vancouver and explore the shops, eateries and cafes at Lonsdale Quay. Or if you want more of a birds eye view of suburban vancouver, take the Skytrain east to Metrotown in Burnaby, home of the largest shopping mall in all of B.C.
Gastown - just a short 10 minute walk from C.P., and one of the most popular tourist areas in vancouver. You'll find souvenir shops, art galleries, restaurants and pubs, as well as live music at night.
Hotels Near Canada Place in Vancouver
There are many hotels near C.P. in Vancouver that are within walking distance of the Cruise ship Terminal. This can make your vacation plans easier and help you get ready for your exciting Cruise ship adventure.
Travel to Canada Place
Here's some information on how to get to C.P.:
By Bus: The closest bus stop is the Waterfront Station (W Cordova St & Granville St). Bus No's 4, 7, 8, 44, 50, and the 98 B-Line all make stops here on their route.
By Skytrain: Take the Expo Line or the Millenium Line to Waterfront Station.
Driving: Approaching from the south, take Seymour St north to Cordova St, then turn left and go west to Howe St, then a right turn will take you to C.P.
Distance to C.P. from Downtown Vancouver: less than 1 KM.
Distance to C.P. & cruise ship terminal from Vancouver Airport: 16 km (10 miles).
Parking at the Cruise Ship Terminal, C.P.- For more information on C.P. parking see Cruise parking in Vancouver.
Tell us about your favorite experience in and around Canada Place
Do you have a favorite experience in or around Canada Place? Share it!
Privacy Policy & Disclaimer / Contact Us