By Darrin Robertson, VTT Editor - Updated: January 17, 2023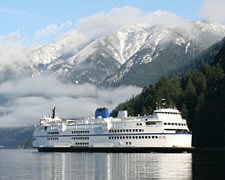 Passing a BC ferry on it's way to Nanaimo!
Another popular way to get from Vancouver to Vancouver Island is the Vancouver - Nanaimo ferry.
Where is Nanaimo? Nanaimo is the 2nd largest city on Vancouver Island (population: 80,000). Vancouver to Nanaimo travel is one of the most popular routes on the West Coast of Canada. Nanaimo is located along the eastern side of Vancouver Island, 113 km (70 miles) north of Victoria, BC.
Nanaimo is a popular transit point for travel to Northern and Southern Vancouver Island, as well as west to Tofino and Long Beach, B.C.
Vancouver to Nanaimo Ferry: Schedule, Cost, Etc 
(Once again, prices, schedules and information can change, so always contact the companies and service providers before planning your travel)
BC Ferries operates the only scheduled ferry service for passengers and cars to Nanaimo, BC.
Where does the ferry to Nanaimo depart from?
The Ferry to Nanaimo leaves from 2 different places: Horseshoe Bay, which is located in West Vancouver, and from Tsawwassen, 17 km south of downtown Vancouver. Horseshoe Bay is a much more scenic place, and is closer to downtown Vancouver hotels (taxi from downtown to Horseshoe Bay costs about $50).
If you're arriving at Vancouver Airport and need to take the ferry to Nanaimo, the ferry terminal in Tsawwassen is closer to YVR than Horseshoe Bay. Taking a taxi from YVR to Tsawwassen is a 30 minute ride and costs about $54 (The BC Transit Bus from Vancouver Airport to the Tsawwassen Ferry Terminal is much cheaper, but takes longer).
From Vancouver Airport to Horseshoe Bay, taxi price is around $80, and travel time is about 80 minutes.
Where does the ferry to Nanaimo arrive?
Sailings from Horseshoe Bay arrive at Departure Bay, which is located in north-central part of the city of Nanaimo.
Sailings from Tsawwassen arrive at Duke Point, which is on a penninsula of land in the far south-eastern corner of the city. Departure Bay is closer to downtown Nanaimo hotels and attractions.
What does the ferry to Nanaimo cost?

(This BC Ferry price info was last updated Jan 3, 2020 and is subject to seasonal changes, holidays, etc):
For adult foot passengers, the price for the sailing between Nanaimo and Vancouver is $17.20 plus taxes and surcharge.
Cars (not including driver & passengers) : $57.50 
Payment: You can buy tickets either online thru BC ferries website or you can buy them at the ferry terminals. Types of payment that can be used include cash and credit cards such as VISA, Mastercard and American Express (BC Ferries does not yet accept bank debit cards).
Tip: British Columbia Seniors can travel for free on BC Ferries as foot passengers from Monday to Thursday (not including holidays).
What are the sailing times for the Vancouver to Nanaimo ferry?
(This BC Ferry Schedule info was last updated Jan 3, 2020, and is subject to seasonal changes, holidays, etc):
From Horseshoe Bay, BC to Nanaimo, there are up to 8 sailings each day each way, usually starting at 6:15 AM, with the last boat often at 10:10 PM. 
From Tsawwassen to Nanaimo, BC, there are up to 8 sailings a day (each way) on weekdays, with the first departure at 5:15 AM, and the last one at 10:45 PM.
How long is the ferry ride from Vancouver to Nanaimo?
From Horseshoe Bay to Nanaimo (Departure Bay): 1 hour and 35 minutes
From Tsawwassen to Nanaimo (Duke Point): 2 hours
Is there meal service on the ferry?
Yes, you can purchase breakfast, lunch or dinner on board in the cafeteria. Snacks, sandwiches and beverages are available too.
Places to Stay Near the Vancouver – Nanaimo BC Ferry:
Downtown Nanaimo: For a place to stay near the Nanaimo Ferry Terminal at Departure Bay, the Buccaneer Inn has well kept oceanview suites with kitchens in a great location - only 1 KM or so from the ferry terminal! The Coast Tsawwassen Inn is clean and comfortable, has a free shuttle to the ferry terminal and is only 20 minutes from YVR.
Nanaimo, BC Attractions:
There are a good number of vacation spots and things to see on Vancouver Island near Nanaimo, including Parksville & Qualicum Beach, The Gulf Islands, as well as Tofino, Ucluelet and Pacific Rim National Park on the West Coast of Vancouver Island.
Do I need a car to see Nanaimo & Vancouver Island?
It is the best way to get around. So if you don't have a car then here is the Best Prices for Rental Cars. However it is possible to see these and many other attractions by bus, escorted tours, and even railway. 
More Info:
BC Ferries: bcferries.com
Nanaimo, BC packages, tours & more: tourism nanaimo.com
Disclaimer - Please Note: This page is a general guide only - It is NOT part of the official BC Ferries website. BC Ferries schedules, fares and services are subject to frequent change. Vancouver Travel Tips.com accepts no responsibility for any loss, injury or inconvenience sustained by anyone resulting from this information. Please consult bcferries.com before starting any travel.
Privacy Policy & Disclaimer / Contact Us