By Darrin Robertson, VTT Editor - Updated: January 17, 2023
Near the top of the list of must-see attractions in Vancouver is Granville Island. 

If you're looking for a place to really get the "feel" of Vancouver, this is it.
Tourists mix with Vancouverites here to enjoy one of the cities finest waterfront attractions.
Here's a guide to help you get to Granville Island and make the most of your time here.
Entrance to Granville Island!
Granville Island Travel Tips:
Where is Granville Island located?
The location might surprise you - it's not really an island! It's actually a small peninsula of land located underneath the Granville Street Bridge on the the south side of an ocean inlet called False Creek.
When is the best time to visit the Granville Island attractions?
Granville Island is busy on weekends, so Monday to Thursday is the preferred time to be here.
Shops and galleries usually operate regular business hours, with restaurants and theaters open later.


Is there any admission cost for the Granville Island attractions?
No, entrance is free.
How do you get to Granville Island?
Bus #50 will bring you here from Waterfront Station. Cycling and walking to Granville Island is popular as well. You can drive here, but parking can be a challenge when it's busy, and it's limited to 3 hours no charge. (There are a limited number of pay parking stalls and lots. Metered street parking near Granville Island is available on W 2nd Ave).
For an exciting and "uniquely Vancouver" way of arriving at Granville Island, come by boat! Here's how: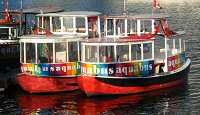 Aquabus - If you're staying at a hotel in the south end of downtown Vancouver near Granville at Pacific (such as the excellent Meridian at 910 Beach, the AquaBus is just a short walk down to the Hornby St. Pier. Climb on board, and for only $3.00 you'll be in Granville Island in just 4 minutes.
Granville Island Ferries - If your hotel or B&B is anywhere in Kitsilano around Burrard and Cornwall Ave/W 4th Ave, just make your way down to Vanier Park and catch the ferry for the 5 minute ride to Granville Island. 
What to See & Do on Granville Island
Granville Island Public Market - The best market in Vancouver! Fresh produce, plants and flowers, all sorts of baked goods, seafood, cheese delicasies, and even chocolates make the 50-plus stalls here the best attraction on Granville Island.
There's a food court with ethnic dishes galore. Or you can relax at the dock, listen to some live music, sip from a cup of coffee from the many coffee houses and cafe, or enjoy an ice cream while watching the birds, boats and city across the water in one of the best locations in Vancouver.
Kids Only Market - a great place for families to visit on Granville Island, with a collection of kids toys, clothing and novelties from all over the world.

Ferries from Granville Island - take the Granville Island Ferry over to Stamps Landing for a visit to the pub! Or, the AquaBus to the World of Science by Telus!
Cycling/Rollerblading - A popular walking tour of Granville Island that's perfect for biking and blading is along the False Creek Seawall, both east (towards Charleson Park, Stamps Landing and Science World) and west (towards Vanier Park, H.R. MacMillan Planetarium and Kitsilano) from Granville Island.
Great Deals and Discounts for Granville Island

Vancouver Harbor Cruise - For Vancouver Dinner cruises, Accent Cruises leave Granville Island nightly for a 3 hour tour and full buffet dinner. Prices are $60, call for exact departure times. (604) 688 - 6625
Live Theatre - both the Arts Club Theater(stage shows, writers workshops) and the Vancouver TheatreSports League (improv and comedy) offer live shows throughout the year.
Great Views - Granville Island has several vantage spots with great views of Burrard Street Bridge, False Creek, Science World and downtown Vancouver.
Photos of Granville Island Attractions
This is a great place to take Photos, here are some Pictures at Granville Island.
Granville Island attractions and Accommodation
Granville Island Hotel - The best hotel on the island, and one that has one of the most unique locations in Vancouver. Large, comfortable rooms, free high-speed internet, fine dining and friendly staff. Great views from the rooms, and a terrific waterfront setting where you're just a 5 minute walk away from the Public Market, restaurants and shops.
Bed and Breakfast on Granville Island - because the island is not a residential district, there aren't any B&B's here. But, there are several options for bed and breakfasts within walking distance of Granville Island. Two worth considering are the Maple House B&B and the Escape to the Point Bed and Breakfast.
Granville Island Restaurants & Pubs
Our choices of some of the best restaurants on Granville Island:
Bridges - Everyone's favourite pick for the place to eat on Granville Island. Excellent seafood, great staff and outstanding mountain and city views. Fine choice for a romantic dinner in Vancouver.
The Keg - a chain known for delicious steaks and seafood. Quite reasonably priced, good atmosphere.
Granville Island Brewery - If you're looking for a brew pub on Granville Island, this microbrewery will impress you with it's famous English Bay Pale Ale. Tap Room is open daily from noon to 8.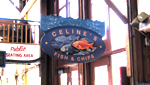 Celine's Fish and Chips - Looking for fresh fish and chips, enter the food court and try Celine's Fish and Chips.
Granville Island Discounts
For discounts on Granville Island attractions, restaurants and entertainment, check out these publications:
Entertainment Book
Georgia Staight
Restaurant & Entertainment sections of the Province and Vancouver Sun newspapers
Tell us about your favorite experience or place at Granville Island
Do you have a favorite experience or place at Granville Island? Share it!
Our Readers favorite experiences or places at Granville Island
Click below to see contributions from other visitors to this page...

Privacy Policy & Disclaimer / Contact Us