By Darrin Robertson, VTT Editor - Updated: January 17, 2023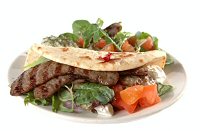 If your hunger demands a taste of Greece in the lower mainland, here's a guide to some of the best Greek food restaurants in Vancouver.
Actually, you can find Greek Tavernas in many different spots throughout Vancouver, North and West Vancouver, Burnaby, Surrey, Richmond and Delta.
But these are picks for Greek eateries worth seeking out for that little bit extra. Enjoy...
1. Stepho's Greek Restaurant is one of the best cheap Greek restaurants to eat at in Vancouver, But Expect line-ups on most nights, the generous souvlaki plates for under $10 make it worth the wait (1124 Davie St, 604-683-2555).
2. The Olympia Greek Restaurant on Broadway St in Vancouver is located close to the old Hollywood Theater. The lamb and garlic bread make this West Broadway institution special.
3. Takis Taverna (1106 Davie St, 604-682-1336) offers the usual souvlaki and does a very nice roast lamb. A short 10 or 15 minute walk from many downtown hotels and makes a good choice for dinner before a show or concert on the Granville Entertainment Mall.
4. Kisamos Greek Restaurant in Steveston (3420B Moncton Street, Richmond 604-277-5626) BC. The roast potatoes are done to perfection here!
Two more suggestions based on location:
Our choice for a Greek restaurant in North Vancouver: Mythos (1811 Lonsdale Ave, 604-984-7411) for it's excellent roast lamb.
And if you're hungry for a Greek restaurant close to the cruise ship terminal in Vancouver, try the Kalypso (200-1025 Robson St, 604-689-5550) which is about a 15 minute walk away.

Greek Restaurants in Vancouver - Takeaway
Vancouver Greek takeaway: the Apollonia (1830 Fir St, 604-736-9559) An excellent Greek eatery with the usual fare like roasted potatos and lamb souvlaki. They have free Greek food delivery within the Vancouver neighborhood of Kitsilano (1830 Fir St, 604-736-9559)
For Greek takeaway in downtown Vancouver, Opa! Souvlaki (412 Davie Street) is the place for a gyros to go.
Vancouver Greek Food – Delivery
Athene's Greek Restaurant in Kitsilano (3618 West Broadway) serves up tasty pizza, calamari, and a nice prawn souvlaki. There's Greek coffee on the menu too, and they deliver!
Coupons for Greek restaurants in Vancouver
For a good deal on Greek food & restaurants in downtown Vancouver:
Scan for coupons in both the Georgia Straight (free entertainment paper) and the Dining Out section of the Vancouver Sun on Thursdays.
Look inside your phone yellow pages - sometimes they have menus and coupons you can cut out for discounts.
Got a Favorite Greek Restaurant in Vancouver BC ?
Do you have a favorite restaurant? Share it!
Our Readers Favorite Greek Restaurants in Vancouver BC
Click below to see contributions from other visitors to this page...

Characters Taverna Not rated yet
Love this place. The calamari is sooo fresh I' ve tasted...dare i say it...worldwide. This place is one of our favourites because of its unfailing …
My Greek Taverna Not rated yet
My Greek Taverna is located at 946 Brunette Avenue Coquitlam, BC. BEST GREEK FOOD I HAVE EVER HAD IN MY LIFE! ..try the rack of lamb, its a bit pricier …
Excellent Greek Restaurant in Vancouver Not rated yet
If your looking for a Greek Restaurant in Vancouver that is painted with blue and white paint and Zorba music playing in the back ground, then this is …
Privacy Policy & Disclaimer / Contact Us