Vancouver Airport to Horseshoe Bay Bus & Skytrain Info
Vancouver Airport to Horseshoe Bay Bus, Tips for Travel on the VYR to Horseshoe Bay Bus and Skytrain Route.
---
VTT Home › Vancouver Airport Transportation › YVR Airport to Horseshoe Bay Bus
By Darrin Robertson, VTT Editor - Updated: January 17, 2023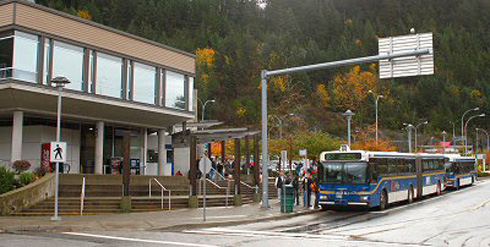 Our Horseshoe Bay Bus from Vancouver Airport !
This page will help you get from YVR to the Horseshoe Bay ferry terminal for BC ferries sailings to Nanaimo, The Sunshine Coast and Bowen Island.
Reminder: If your destination on Vancouver Island is Victoria, please see our guide to taking the ferry to Victoria.
Cost of travel from Vancouver Airport to Horseshoe Bay by bus and Skytrain is $9.00 (two-zone fare of $4.00 + YVR AddFare of $5). Just one two-zone ticket is required, which you purchase from a ticket machine at the YVR Airport Station Skytrain platform. 
For return travel from Horseshoe Bay to YVR, the price is $4.00, and you purchase your ticket on board the bus.
Total travel time by bus between YVR and Horseshoe Bay is anywhere from 1hr 30 minutes to 2 hrs, depending on traffic and connection times.
Directions: Vancouver Airport to Horseshoe Bay, BC by Skytrain & Bus

Heading to Downtown Vancouver on the Skytrain!
Board the Skytrain at YVR Airport Station (Domestic Departures Level 3) and ride from YVR to City Center Station in Downtown Vancouver (All Skytrain services at YVR go to this station enroute to Waterfront Station. For more info on this leg of the journey, see our complete guide to riding the Skytrain from YVR to Downtown Vancouver.)
Get off the Skytrain at City Center Station. Once outside the Station, you need to find Georgia St W and walk along the north side about 1/2 block east towards Seymour St to the Bus Stop (Stop No.58504) and board the next #257 Horseshoe Bay Express Bus.
Ride Bus #257 from West Georgia St across the Lion's Gate Bridge and all the way to its final stop at Horseshoe Bay, BC. The bus station at Horseshoe Bay is a very short walk to the BC Ferry Terminal.
IMPORTANT: Once again, please check translink.ca for price & schedule updates before travelling.
Vancouver Island Accommodation: If you're a foot passenger on BC Ferries and you need a place to stay in Nanaimo, the Buccaneer Inn is the closest hotel to the ferry terminal in Nanaimo, BC.
Directions: Bus & Skytrain from Horseshoe Bay to Vancouver Airport 
Vancouver Airport to Horseshoe Bay Bus Directions#257 from Horseshoe Bay to West Georgia at Seymour St.
Connect to the Skytrain by walking to City Center Station and boarding the next Skytrain that is going to "YVR Airport"
Ride the Skytrain and get off at its final stop, which will be Vancouver International Airport.
Horseshoe Bay Bus Terminal: This bus stop is located right in front of the BC Ferry Terminal! Very close and convenient.
Bus & Skytrain Schedules: Vancouver Airport to Horseshoe Bay Bus
Skytrain Schedule: departure times for the Skytrain between Vancouver Airport and downtown Vancouver are very frequent - on average every 5 minutes throughout the daytime (slightly reduced service in the late PM hours). The service runs between 5:10 AM and 1:05 AM.
#257 Bus Schedule: These buses run on average every 1/2 hour throughout the day starting at around 7 AM till 8 PM in the evening.

For more information on the Vancouver Airport to Horseshoe Bay Bus, please see also:
A Guide to Taking the Nanaimo Ferry.
Please Note: This page is a general guide only - it is NOT the official BC Ferry or Translink website. Schedules, prices and information frequently change, so please be sure to check translink.ca and bcferries.com for updated information before starting your travel. Vancouver Travel Tips.com accepts no responsibility for any loss, injury or inconvenience sustained by anyone resulting from this information.

Privacy Policy & Disclaimer / Contact Us