By Darrin Robertson, VTT Editor - Updated: January 17, 2023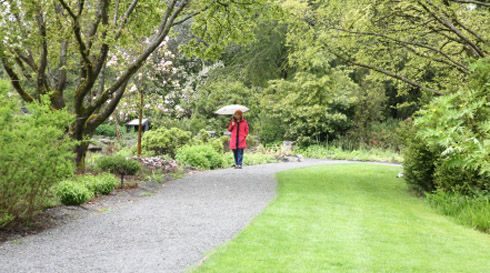 If you're planning a vacation in Vancouver during the winter months from November to March, you might be asking about what to do when it rains in Vancouver, BC.
So here's a brief list of some possible activities for rainy days in Vancouver.
Before walking outdoors, make sure you:   Take a small umbrella.  Have a warm coat and good footwear to keep you dry.<BR><BR>
Out for a walk in the Rain in Vancouver!
Vancouver Rainy Day - Top Ten Things To Do
1. Go Shopping! Duck in and out of the designer shops on Robson St., go totally underground in Pacific Place in downtown Vancouver, or ride the skytrain or bus to Metrotown Mall in Burnaby, Richmond Center, Asia West in Richmond, Chinatown shops in Vancouver, Punjabi Market.
2. Ride the Aquabus & explore the galleries and Public Market on Granville Island.
3. Try Museum-hopping: UBC Museum of Anthropology, Vancouver Maritime Museum in Kits and the Vancouver.
4. Visit Horseshoe Bay for a look at one of the prettiest ocean inlets anywhere. The rain almost adds an extra element of drama to the mountains sliding into the sea .
You can also hop on the ferry to Bowen Island, where lunch at Doc Morgan's Inn & Pub is a pleasant 5 minute walk from the dock.
5. Check out the World of Science and HR MacMillian Space Centre and all the fun displays they have. 
6. See Stanley Park, Lynn Canyon Suspension Bridge or the Suspension Bridge at Capilano in the rain – if you've ever wondered what a Pacific Northwest rainforest looks like in the rain, this will give you an idea.
The forested areas offer some protection from the drizzle (as long as it's light rain – not a heavy downpour coming down sideways!), and you can enjoy these natural wonders of Vancouver in more of their natural state.
7. Admire Classical Chinese Garden of Dr. Sun Yat-Sen - these immaculate gardens are an easy attraction to get to near downtown Vancouver when it rains.
8. Go for Coffee! See Vancouverites up-close in one of their favourite pastimes – sipping java at a neighborhood cafe Vancouver when it rains. Try Cafe Calabria or Abruzzo on Commercial Drive, Caffè Artigiano (several locations in downtown Vancouver), or Bean Around the World (multiple locations.
9. Visit the Vancouver Aquarium - See BC's only 4D theater, as they explore the ocean and the creatures that live there.
10. Travel to Steveston Village in Richmond for a look at the West Coast fishing village, lots of small shops, fish and chip restaurants and even the Gulf of Georgia Cannery to tour.

Tell us about your favorite thing to do when it rains in Vancouver
Do you have a favorite thing to do when it rains in Vancouver? Share it!
Our Readers favorite things to do when it rains in Vancouver
Click below to see contributions from other visitors to this page...

Privacy Policy & Disclaimer / Contact Us